This guide will help you integrate your PagerDuty account to your PushMon account.
1. Configuring a New Service
On your PagerDuty page, click on Configuration > Services.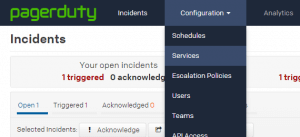 Click on Add New Service.
Fill up information in the fields. Just make sure that Integration Settings is set to Events API v2
NOTE: One service is enough for all of your PushMon URLs. If you already have a Generic API service, you may also use that.
2. Getting the API Key of Your Service and Putting it on your PushMon URL
To get the Service Key, click on your newly configured service and look for Integration Key

On your PushMon Edit Page, place the Integration Key on the text field under PagerDuty tab.

And that's it. You're good to go.